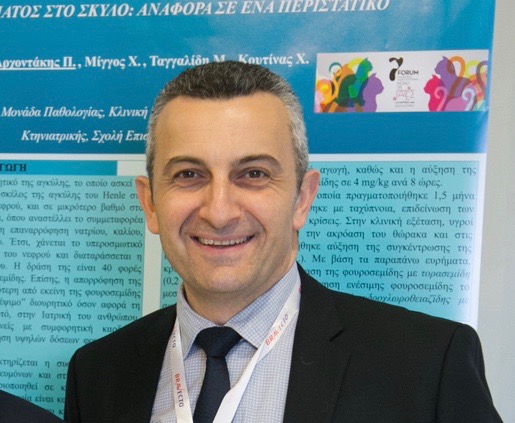 Colonel Stefanos Kladakis, Veterinary Surgeon
Hellenic Army Veterinary Corps Officer – C' Army Veterinary Hospital
Independent Veterinary Small Animal Surgery Consultant
Executive Board President of HCAVS (Hellenic Companion Animal Veterinary Society Thessaloniki)
Stefanos graduated from Aristotle University of Thessaloniki, Faculty of Veterinary Medicine and Corps Officers Military Academy in 1995. He received post-graduation studies in small animal medicine and surgery in Greece and USA.
He is an officer of Hellenic Army Veterinary Corps and has served as a Consultant and as a Director of Veterinary Clinics in three Hellenic Armed Forces Veterinary Hospitals. Currently he serves at C' Army Veterinary Hospital in Thessaloniki, as a Director of the Military Working Dogs Department (Reproduction and Training Unit and Veterinary Referral Clinic).
He also works in private practice as an independent referral surgeon in Vet Surgery Referral Centre of Thessaloniki (www.animalsurgery.gr) and cooperates as a mobile surgical associate with several private small animal practices, hospitals and clinics in Greece and Cyprus.
He has published 51 papers in national and international congress proceedings and veterinary journals and has been an invited speaker in 36 national and international veterinary conferences, courses, seminars, webinars and wet labs in soft tissue surgery topics.
He has also been appointed as a member of organising and scientific committees in several veterinary scientific events (congresses, conferences and webinars).
Stefanos is an active member of several national and international veterinary associations and currently the EB President of Hellenic Companion Animal Veterinary Society (www.hcavs.gr).
He is an active sportsman, with basketball, tennis, swimming and running being his favourite. He is a big fun of technology and enjoys surfing the internet and being active in social media.