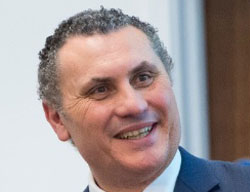 Theo Kanellos qualified as a veterinarian from the Aristotle University of Thessaloniki in Greece and has been awarded an MSc in microbiology and PhD in molecular medicine from the University of London.
He also has a business diploma from the Ecole Supérieur de Commerce de Paris (ESCP).
During his career he worked as a clinician, an academic, a governmental official and for the last seventeen years as part of the management within the Pharmaceutical Industry where he has held several strategic roles.
He has managed research laboratories, business development transactions, scientific and multi-functional alliances teams and programmes in several organisations that have led to the spinoff of biotechnology companies, the award of significant scientific grants, the founding of major strategic partnerships and the registration and licensing of successful commercial products and services.
In his current role in Zoetis he establishes business transactions and entrepreneurial partnerships with companies, venture capitalist groups, universities, and governmental institutions, internationally.
He holds a visiting professorship at the School of Health and Medicine at the University of Surrey and he is a board member in several organisations including the Global Alliance for Livestock Veterinary Medicines in Africa, The Global Antimicrobial Research Innovation Fund, Action Group of the One Health Platform etc.
He is ad hoc advisor in several EU and national scientific and veterinary organisations. He is the author of over 40 peered reviewed papers and his articles, presentations and interviews have also featured in many trade and public media.